I am a certified Yin Yoga teacher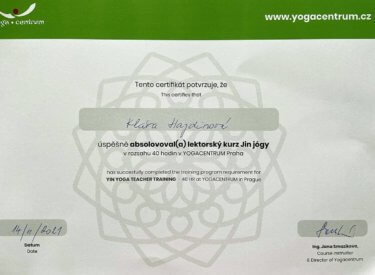 What Is Yin Yoga
Yin Yoga is a part of the Hatha yoga tradition. It is a passive, feminine-aspect style of yoga. In its modern form, Yin Yoga combines elements of Indian yoga and Chinese Taoist exercises with Western health science to work towards improving condition of the body on many levels. In Yin Yoga, you rest in each pose (asana) for 3 to 5 minutes which mobilizes and strengthens the joints, the ligaments, and the deep fascia tissue. The benefits of Yin Yoga include relaxation and calmness of the mind. Yin Yoga provides the time and space for emotions, thoughts and feelings which have been kept in the dark to surface. We may not even realize how much energy our body exerts to keep everything that has been suppressed under the surface. The goal of Yin Yoga is not only to improve your physical and mental health but also to learn to live in the present, to accept yourself and to enjoy life.
What Yin Yoga Means to Me
To me, Yin Yoga practice means calmness and rest. It is a time when I am myself, I am aware of my body and everything that is happening inside it. Energetic people often find "passiveness" challenging. If you go along with it, your mind calms down and your body enters a state of deep relaxation. The poses are so intense that sometimes, they can be difficult to get out of. Other great lessons that Yin Yoga teaches include the acceptance of discomfort, trust and patience. When practicing Yin Yoga, all kinds of feelings can surface on both the physical and the emotional level. All you need to do is observe them and concentrate on your breath. Yin Yoga practice brings deep serenity and rest in the bliss of the present moment.
Yin Yoga Classes
Each lesson starts with a breathing exercise during which we focus inside ourselves. Then we practice the asanas (yoga poses). Different asanas influence different meridian paths, affect the different organs and connect with different emotions (gall bladder – anger, pericardium/lungs – joy, sadness, etc.). Between the poses, we rest for about one minute in the Shavasana (corpse position) which gives us an opportunity to process the effect of the previous pose. We conclude each lesson with relaxation and the singing of the Om mantra.
Were And When
PRAGUE
Friday 8:30 a. m. – 9:30 a. m. – Zen Garden Yoga Studio
(60 minutes, CZK 250)
ČERNOŠICE
Sunday 8:30 p. m. – 9:30 p. m. – Centrum Vráž Municipal Hall
(60 minutes, CZK 200)